Safety Precautions
Do not operate display functions during safety critical operations. Objects in the monitor are closer than they appear.
The machineCam will not replace your eyes and ears. Please make sure that you are always monitoring critical operations directly.
Storage and Keeping
Do not expose the monitor to excessive heat or cold. The storage temperature of this device is -30~+80℃, and the operating temperature is -20~+70 ℃. The humidity is Rh90%.
Never use this device near a bathtub, wash basin, kitchen, damp basement, swimming pool or similar places.
Never use this device in environments with excessive moisture, dust or smoke.
Avoid dropping or striking this device.
Avoid using this device in enclosed spaces, areas with excessive vibration or subject to severe impacts.
Never puncture, scratch or use abrasive cleaning materials on this device.
Do not place cables where they may be pinched or stepped on.
Leave at least a 2″ / 5 cm space between the monitor and walls, cabinets or other objects to allow adequate air circulation around the device.
The monitor is not designed to be waterproof.
Operating Precautions
The device may be powered by a 12 or 24 volt automotive battery or vehicle electrical system.
Make sure all cables are connected properly. Observe polarity. Improper cable connections may damage the monitor. Remove the power cable connections when you do not intend to use the device.
High voltage is present within the monitor. The opening of the case should be by professionals.
Special Notice
Occasionally, a few highlights or dark spots may occur on the LCD screen. This is a very common phenomenon in active matrix display technology, and doesn't necessarily indicate any defects or faults. Never try to repair this device by yourself. In case of any problems, please turn off the display at once and notify our company or authorized dealer. The monitor is a complex device. Any disassembly or modification may lead to damage and void the warranty.
Maintenance
Remove all the cable connections from the monitor before cleaning the device.
Use a mild household detergent and clean the unit with a slightly damp, soft cloth. Never use strong solvents such as thinner or benzine, as they might damage the finish of the device.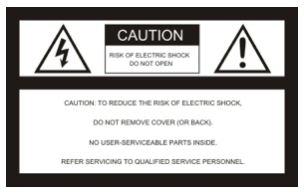 This symbol is intended to alert the user to the presence of uninsulated "dangerous voltage" within the product's enclosure that may be of sufficient magnitude to constitute risk of electric shock to persons.

This symbol is intended to alert the user to the presence of important operating and maintenance (servicing) instructions in the literature accompanying the appliance.
Copyright Notice
This publication, including all photographs, illustrations and software, is protected under international copyright laws, with all rights reserved. Neither this manual, nor any of the material contained herein, may be reproduced without written consent of the author.
Disclaimer
The information in this document is subject to change without notice. The manufacturer makes no representations or warranties with respect to the contents hereof and specifically disclaim any implied warranties of merchantability or fitness for any particular purpose. The manufacturer reserves the right to revise this publication and to make changes from time to time in the content hereof without obligation of the manufacturer to notify any person of such revision or changes.
Limitations of Liability
UNDER NO CIRCUMSTANCES SHALL LUDA ELEKTRONIK AB OR ITS SUPPLIERS BE LIABLE FOR DAMAGES OF ANY CHARACTER (E.G. DAMAGES FOR LOSS OF PROFIT, SOFTWARE RESTORATION, WORK STOPPAGE, LOSS OF SAVED DATA OR ANY OTHER COMMERCIAL DAMAGES OR LOSSES) RESULTING FROM THE APPLICATION OR IMPROPER USE OF THE PRODUCT OR FAILURE OF THE PRODUCT, EVEN IF LUDA ELEKTRONIK AB IS INFORMED OF THE POSSIBILITY OF SUCH DAMAGES. FURTHERMORE, LUDA ELEKTRONIK AB WILL NOT BE LIABLE FOR THIRD PARTY CLAIMS AGAINST CUSTOMER FOR LOSSES OR DAMAGES. LUDA ELEKTRONIK AB WILL IN NO EVENT BE LIABLE FOR ANY DAMAGES IN EXCESS OF THE AMOUNT LUDA ELEKTRONIK AB RECEIVED FROM THE END USER FOR THE PRODUCT.